Asian Aotearoa Histories
Pre-work – videos
"Māori-Chinese encounters and New Zealand multi-cultural society". Manying Ip. Research works wonders. 2011, Auckland University.
Interviewed 100+ people.
Lots of NZ people with Chinese and Māori.
Multi-cultural society is broader than people think.
Needs to be more understanding of Asian community in NZ.
"Documentary Edge Online Video Poetry Slam 2012: Chinglish: Renee Liang". 2012, Documentary Edge.
People's perceptions that people who are Asian were not born here?
"Your English is good, for a foreigner…"
"Community arts case study: 'Alice Canton's OTHER [CHINESE]'". Jeff Smith, Deep Animation (filmmakers). 2018, New Zealand on Air.
Classroom notes
Economic downturn in China.
Prompted a diaspora to other countries.
Watching video #1 again
Social deprivation.
Legislative discrimination.
Inter-marriage.
This was one of first pieces of research.
Way forwards is for Chinese and Maori to work together.
National identity includes Pakeha, Māori, and Asians.
Reflecting on this image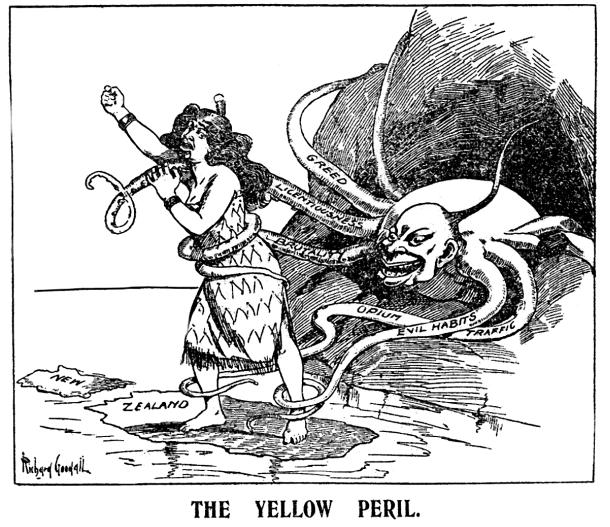 Portrayal of Asian man as a monster.
Male attacker.
Māori woman representing NZ?
Māori as victims?
Adaptation of other country's racist traits.
Insecurity?
Why opium? Was that long dead by 1907?
Why octopus?
https://digitalscholarship.unlv.edu/cgi/viewcontent.cgi?article=1018&context=cola_ug_research


https://www.abc.net.au/radionational/programs/archived/nationalinterest/chinese-octopus/3075324

https://streetsofsalem.com/2013/01/22/teaching-with-tentacles/
From georgiana morison to Me: (Direct Message) 02:01 PM