Introduction
Although it's taken a while for me to feel this way, Oruamatoro / Days Bay is my place now. I feel strongly connected to it, and I'm always interested in learning more.
The Land / Whenua
The characteristics of Days Bay have been described, along with the rest of the Hutt, in a study by Greater Wellington Regional Council.
The coastline … comprises a series of small sandy bays separated by rocky headlands. Flat land is scarce, with the largest flat areas located in Days Bay, Lowry Bay and Eastbourne, where the meeting of sediment-laden currents has allowed build up of the foreshore.

HUTT LANDSCAPE STUDY 2012 Landscape Character Description[1]

http://www.gw.govt.nz/assets/council-publications/Hutt%20Landscape%20Study%202012.pdf
A Changing Landscape
It's important to note that the Days Bay, Eastbourne, Hutt Valley and Wellington Region we see today are not the same as they were when first seen by human eyes.
Starting from the event labelled by Maori as Haowhenua around 1460, which was probably a major earthquake, probable uplift and possible tsunami. Then after the start of colonisation there were the major earthquakes in 1848 and again much larger in 1855. These events also caused significant uplifts in many places particularly at Turakirae, but more significant was the uplift of the lower Hutt River, draining the swamps of Te Mome and making the river much shallower.

HUTT LANDSCAPE STUDY 2012 Landscape Character Description[2]

http://www.gw.govt.nz/assets/council-publications/Hutt%20Landscape%20Study%202012.pdf
Pre-colonial Days Bay
First arrivals
Many people will have heard of the Polynesian explorer Kupe, the first known explorer of Wellington harbour. Although he didn't stay and settle, some of our place names, for example Mātiu (Somes Island) and Makāro (Ward Island) memorialise members of his family.
Later, Maori arrived in the area.
Māori settlement
When Māori first arrived in the Hutt Valley it was a place of dense forest of tall timber but also a place abundant with the all important food sources, such as large birds on both the forest floor and in the lofty canopy.

HUTT LANDSCAPE STUDY 2012 Landscape Character Description[3]

http://www.gw.govt.nz/assets/council-publications/Hutt%20Landscape%20Study%202012.pdf
The earliest settlements by Māori in this part of the Hutt Valley were of the hapu descended from Whatonga and his two sons, the half brothers Tautoki (the father of Rangitane) and Tara, after whom Wellington Harbour was named (Te Whanganui a Tara).

HUTT LANDSCAPE STUDY 2012 Landscape Character Description[4]

http://www.gw.govt.nz/assets/council-publications/Hutt%20Landscape%20Study%202012.pdf
For centuries Māori occupied kāinga (settlements) in the sheltered bays, and more substantial pā on the headlands. As well as The Hutt Landscape Study, I also read on Teara that, "Pā sites include … Oruamatoro (Days Bay) [5]https://teara.govt.nz/en/wellington-places/page-11".
I also found a record calling it Otuamatoro[6]https://forms.justice.govt.nz/search/Documents/WT/wt_DOC_93656705/Wai%20145%2C%20I009.pdf. More on this later.
Unfortunately, I can't find any more information where exactly the pā site was located. If I were to guess, I would imagine that it was on the promontory at the top of what's now Ferry Road, as it's protected around most of its perimeter by a steep drop off down to the foreshore.
Māori predominantly lived on the coast where the food resource was rich and varied. From the coast hunting parties ventured far inland to draw on those stocks and then returned to the coast.

HUTT LANDSCAPE STUDY 2012 Landscape Character Description[7]

http://www.gw.govt.nz/assets/council-publications/Hutt%20Landscape%20Study%202012.pdf
Colonial-ization
Exploration and land acquisition
The New Zealand Company (originally established for a short period in 1826 as the New Zealand Land Company) was a joint stock company formed in 1839 with the purpose of establishing settlements in New Zealand that would put into practice Edward Gibbon Wakefield's theories of systematic colonisation. Despite being unable to secure the support of the British Government for the project, a preliminary expedition was still despatched by the Company in April 1839. This expedition, under the command of Colonel William Wakefield, was to select a site for the first and principal settlement of the Company, buy land from the Maori, and prepare for the arrival of immigrants. Port Nicholson was chosen as the site for the settlement, which was named Wellington, and settlers began arriving early in 1840.

New Zealand Company Records [8]

http://www.nzpictures.co.nz/pandoraresearchANZ-NZC.pdf
Interestingly, in 2003 The Waitangi Tribunal had this to say on the matter:
The Tribunal found that the 1839 deed by which the New Zealand Company purported to have purchased the Port Nicholson block was invalid, conferring no rights on the company or its settlers. However, from 1840, company settlers began arriving at Port Nicholson, and quickly came into conflict with local Māori, who discovered that land which they occupied and cultivated had been sold to settlers.

Te Whanganui a Tara me ona Takiwa: Report on the Wellington District
The first Days Bay Pākehā
According to Colonel William Wakefield, Port Nicholson only had one "white man" living in it in September 1839.
A tree called by the English here the honey-suckle, furnishes excellent wood for boat-building. The only white man living in Port Nicholson showed me a boat of eight tons, which he had constructed of this wood, the planks of which he had bent himself in the sun. He had sawed the whole of it with a hand-saw and made the nails for it out of old hoops.

Colonel William Wakefield's Journal, September 21st, 1839
Hautrey/Hawtrey Bay
Wakefield and his crew surveyed the harbour and surrounding area. I found an map from 1849 of Port Nicholson, which is the old name for Wellington Harbour, and located Days Bay. It was originally called Hautrey Bay (with a "u").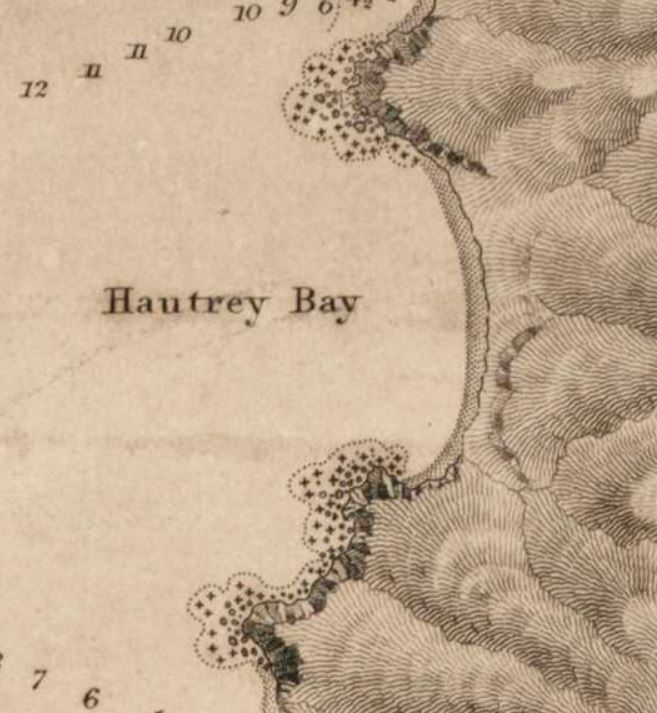 Divvying up the land
I found one of the original maps from 1839 that shows how the whole of the Port Nicholson region was sectioned for the settlers. Days Bay was Section #33 and #37. It's all so… British. Neatly and tidily screw over the local Māori, and extend the empire on which the sun never sets.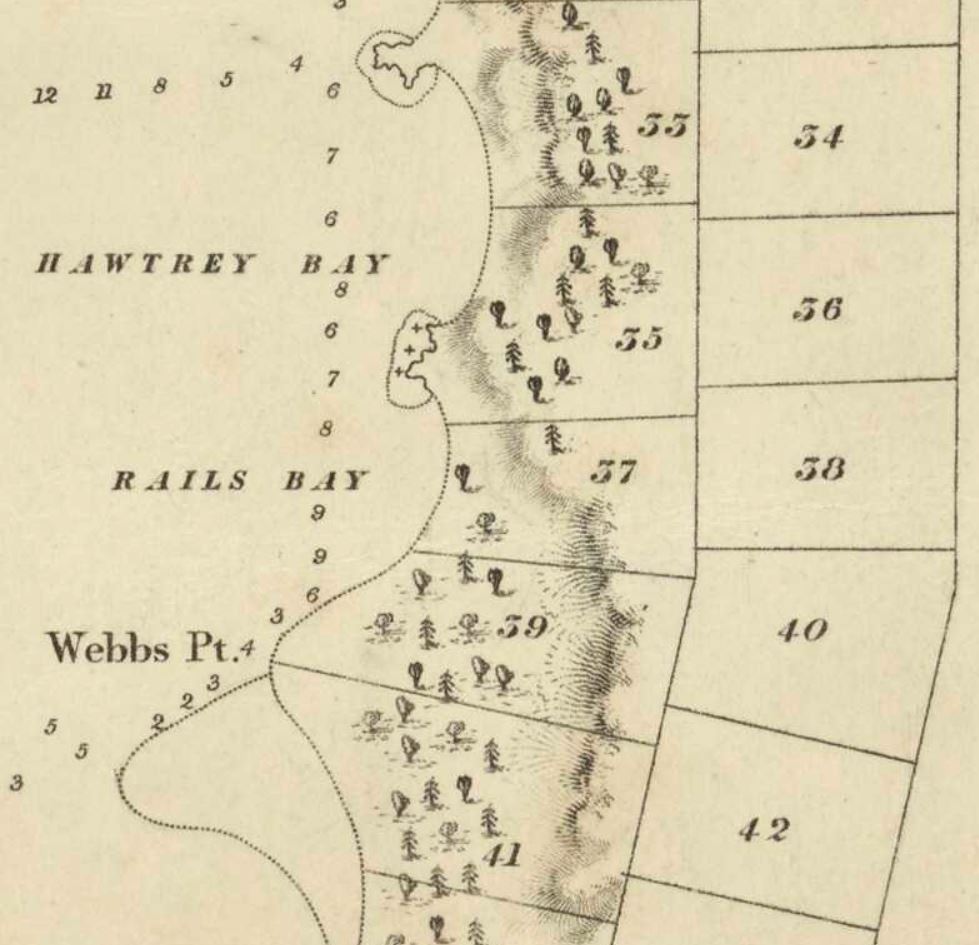 The colonists arrive
On 22 January 1840, the first of the New Zealand Company's fleet of six immigrant ships, the Aurora, arrived in Pito-one (Petone), marking the founding of the settlement that would become known as Wellington.
There is a fantastic database from Hutt City Council that holds full records of all arriving ships, including log entries and what I can only describe as "ships gossip", that runs from 1839 to 1897:
http://www.huttcity.govt.nz/Leisure–Culture/Museums-and-galleries/Our-museums/petone-settlers-data/
Mister Day
Days Bay (now without the apostrophe – originally it would have been Day's Bay) is named for George Day, who arrived in New Zealand in October 1841. That was nearly two years later, so he likely wasn't the first resident of Days Bay. I decided to see if I could figure out who that was.
The Brothers Deans
I found a newspaper story from 1851 – an obituary of William Deans, one of the Aurora's settlers. With his brother, John, he originally settled in Petone, but by March 1841, "had shifted from Petone to Ōkiwi, on the eastern shore of the harbour" [9]https://teara.govt.nz/en/biographies/1d7/deans-john. Interestingly he was "disappointed" [10]https://en.wikipedia.org/wiki/William_Deans with what he found at Wellington, and started looking for other land.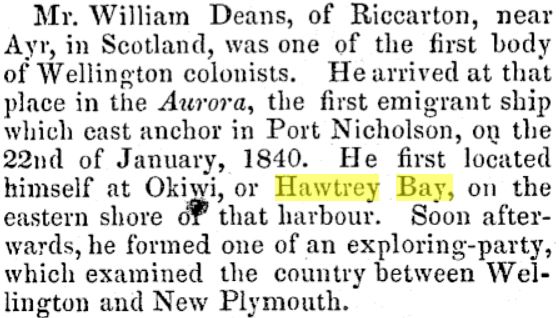 I did find a record of his original section allocation, which was Section 690, but I don't know where that is yet.
781 13 Aug 1840 W. Deans 690
So, I guess Ōkiwi is Hautrey Bay is Hawtrey Bay is Days Bay? That means Days Bay had its first colonial resident from the first colonist ship. Or did it? This is not so simple yet…
Anyway, this is William Deans' brother, John; I couldn't find a picture of William.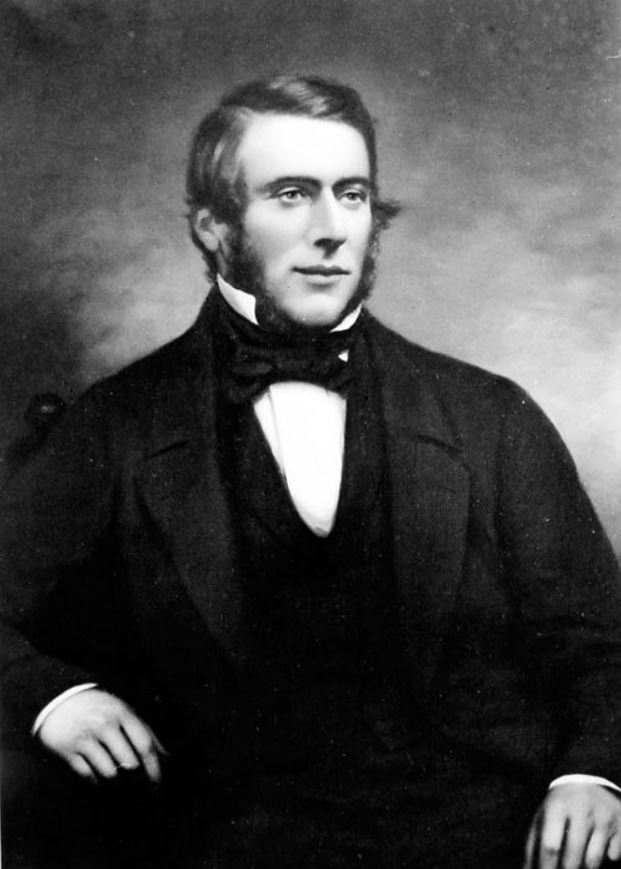 Māori connections
In reading the colonial history, there are names coming up for various Māori places, but these are pretty mixed up.
For example, the Deans brothers were known to live at Ōkiwi or Hawtrey Bay, which we know became Days Bay. However, I then found the advert for when they sold their property and moved on [11]https://paperspast.natlib.govt.nz/imageserver/newspapers/P29pZD1OWkNQTkExODQzMDExNy4xLjEmZ2V0cGRmPXRydWU=.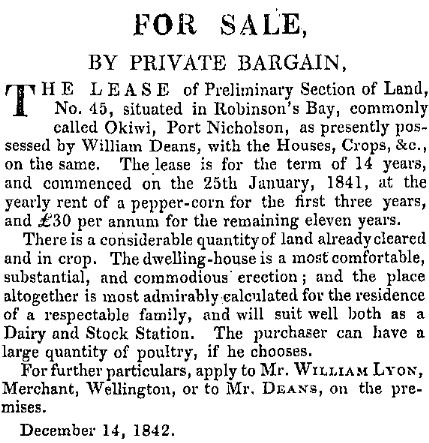 This says they were living at Robinson's Bay or Okiwi (I guess newspapers maybe didn't use macrons back then, so Okiwi rather than Ōkiwi), and were leasing section 45, which is indeed not Days Bay. Helpfully, in a document of Waitangi Tribunal Research, I found some place names based on an interview with a Mrs Te Puni in 1912, which sheds a bit of light on this.
| | |
| --- | --- |
| Māori Name | English Name |
| Orua-motoro | Days Bay |
| Okiwi-iti | Browns Bay |
| Okiwi-nui | Robinson's Bay |
| Matua-iwi | Pa at Robinsons Bay |
There's also yet another mention of a pā at Otuamotoro. Note the different spelling. Could people be maintaining the idea a pā in Days Bay because they mixed up Otuamotoro and Oruamotoro, or is this just a typo and it's the same place name?
I really want to find this pā site!
Also, this means that the Deans lived in Robinson's Bay, which is actually the bay down the coast at Muritai (bottom left on the map below).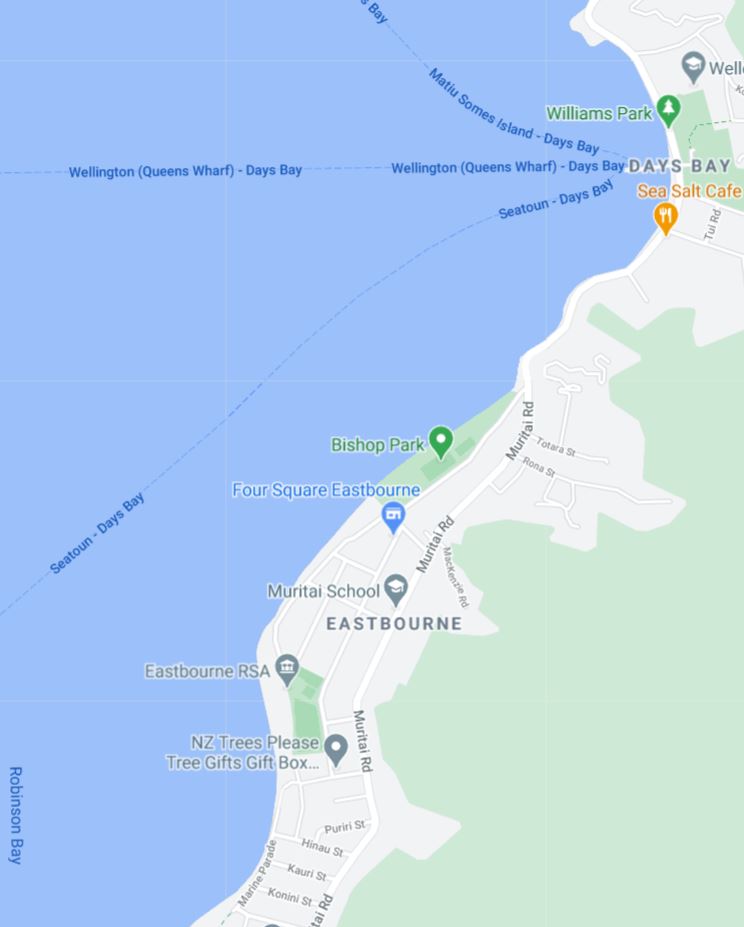 Looking at the original New Zealand Company section allocations for the area, that perhaps means the Deans brothers had Section 41 or Section 45, not 33 or 37, which would have been in Hawtrey/Days Bay.
So, who was the original colonist resident of Days Bay?
Well, it I'll need to keep digging.
My Place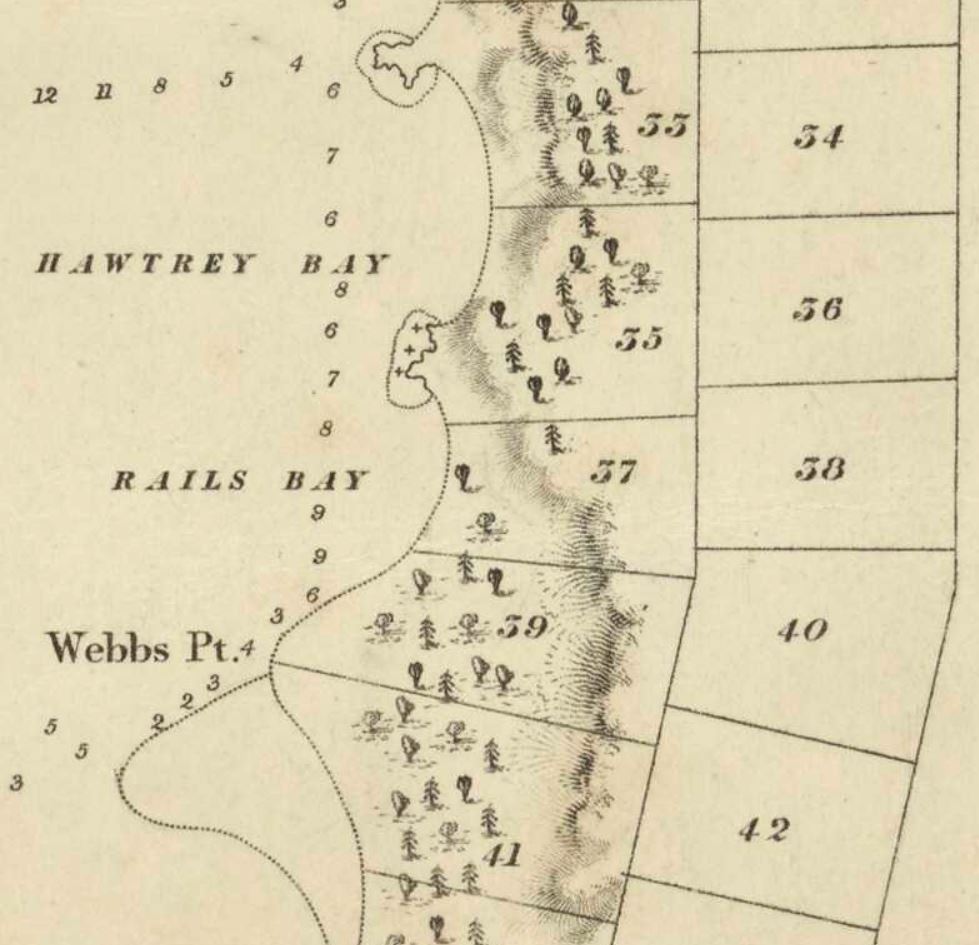 It's interesting to see how things had change about 70 years later, when Sections 33 and 37 above had become what's almost modern Days Bay: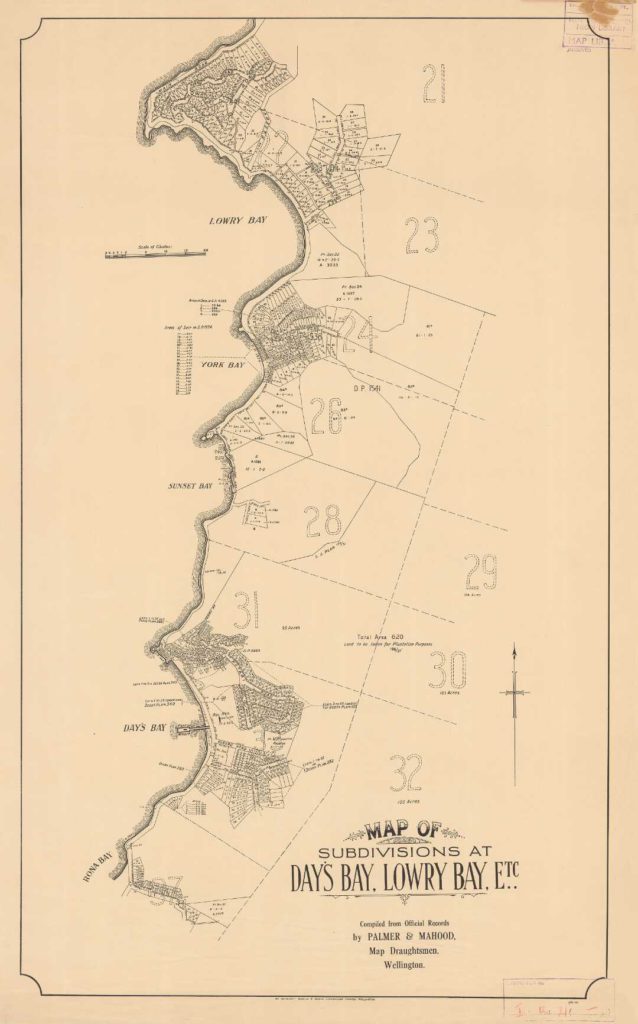 I even found the original sale notice for my own section, which was part of the final subdivision of Days Bay in 1914.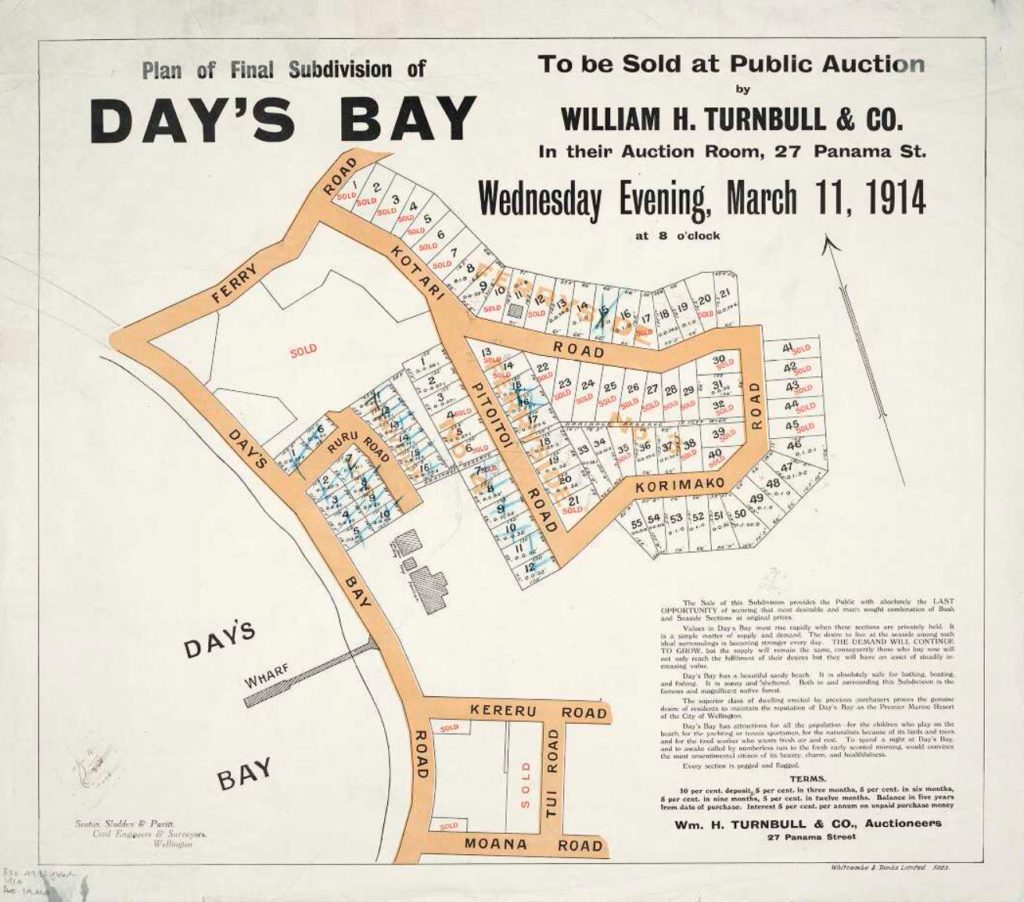 Since then, there have been many more minor subdivisions and building efforts, and I doubt that pattern is going to change any time soon.
Initial thoughts on "Express"
So, I was wondering how I take what I've learned so far and produce an artwork that connects things together.
I get a sense that migration into New Zealand in general has been at the expense of went before. The arrival of the Māori had severe adverse consequences on the nature of New Zealand's landscape and ecosystems, and in particular on biodiversity. Likewise, the arrival of Pākehā and widespread colonization from Europe had similarly detrimental affects; perhaps even worse. These are difficult topics to raise, but we should not be in denial. They're done with now, we think differently and know more, so let's look forwards; not backwards.
What might have been
It might be interesting to consider what might have happened if the various human migrants to Days Bay had adapted to what went before, rather than overlaid their own worldviews. This is not to say, "people should have done X or Y". That's so pointless – we need to accept reality as it is. Instead, by thinking about what might have been, we can perhaps hope to influence future thought, so that decisions are framed in a different context.
A "what if" artwork
One idea I had is to create an artwork, perhaps a painting or collage, that will show how Days Bay may have looked if arriving peoples had adapted to what went before. We might see the arriving Māori build their village without clearing land; instead, their village could have been sited on the beachfront and in the trees. The arriving Pākehā could have built their own houses and other buildings alongside the existing Māori buildings; perhaps with both the newcomers and the existing residents adapting their buildings to take best advantage of the learnings from both people. Later, as modernization occurred and the wharf and roads were built, we might see the landscape gently adapted to take them in. Not a layering of one culture over the previous one, but an interweaving and intermingling.
How to do this?
Illustrating Days Bay as a whole is difficult – it's best seen from the water. Fortunately, the wharf sticks out into the bay, so showing the view of Days Bay from the end of the wharf is an option.
Perhaps, as a start, a series of photos, sketches, and illustrations. Show Days Bay, try to show what it would have looked like before humans arrived, then show how the Māori village could have looked, then how the 18th Century colonists might have adapted to the bay, and so on. As a final artwork, create a combined illustration that shows how Days Bay could look.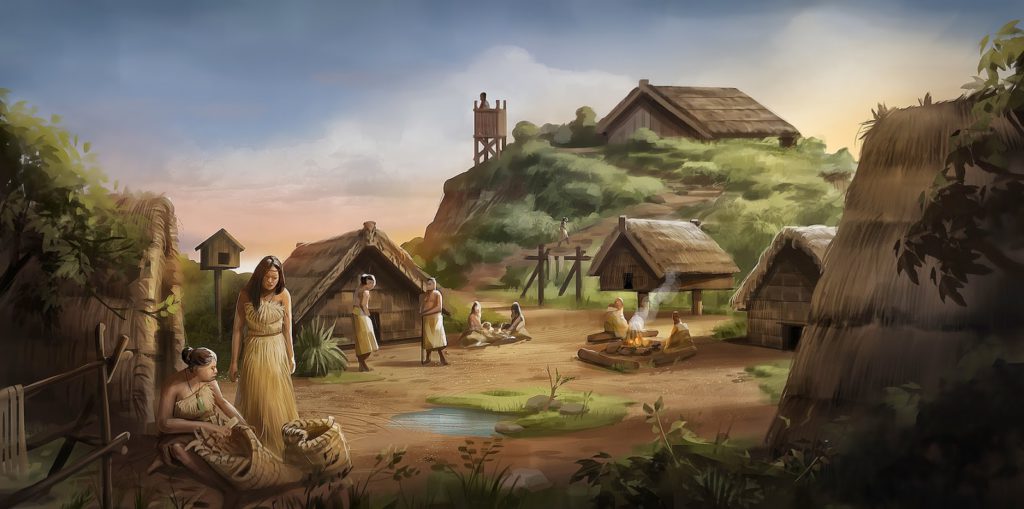 References

↑

1,

↑

2,

↑

3,

↑

4,

↑

7

http://www.gw.govt.nz/assets/council-publications/Hutt%20Landscape%20Study%202012.pdf

↑

5

https://teara.govt.nz/en/wellington-places/page-11

↑

6

https://forms.justice.govt.nz/search/Documents/WT/wt_DOC_93656705/Wai%20145%2C%20I009.pdf

↑

8

http://www.nzpictures.co.nz/pandoraresearchANZ-NZC.pdf

↑

9

https://teara.govt.nz/en/biographies/1d7/deans-john

↑

10

https://en.wikipedia.org/wiki/William_Deans

↑

11

https://paperspast.natlib.govt.nz/imageserver/newspapers/P29pZD1OWkNQTkExODQzMDExNy4xLjEmZ2V0cGRmPXRydWU=

↑

12

https://vflanagan.artstation.com/